Information and Resources to Assist Parents
Why get my child an Amtryke?
For many parents, the Amtryke fills the need of every child to have a bike—just like their siblings and friends. Many riders not previously considered capable of riding a bike will be successful riding an Amtryke. Our trykes look like bikes, not medical equipment.
We often hear back from parents telling us how the Amtryke has improved their kid's life. It's not just the obvious benefits of exercise but also more subtle things like improved family and peer activity inclusion as well as a sense of empowerment, self-reliance, and freedom.
The Amtryke isn't magic, it's just a very useful tool. Because children should only use the Amtryke with adult supervision, improvements are almost always in direct correlation with a parent or guardian's commitment to doing their part in providing opportunities for their child to ride.
Adaptive tricycles are expensive. Greenebucs is a nonprofit organization, we are dedicated to providing mobility to children with disabilities and disabled veterans. All the money we raise for AmTrykes goes to the purchase of Amtrykes. As a local volunteer organization Greenebucs has very little overhead and what overhead we do have is paid for out of members' dues.
We understand that most families that include a child who would benefit from an Amtryke are under financial strain due to medical and therapy bills, and we are here to help get your child an AmTryke!
Greenebucs encourage every family to organize a fundraising activity to help fund their child's Amtryke. We know raising money can be difficult; after all we are constantly doing so ourselves, and we want you to know we are here to help! We have several fundraising ideas to help you and your family. If you have questions, please contact us.
As an option AmTrykes can be purchased from the Ambucs Amtryke Store at www.amtrykestore.org. Not everyone needs a charitable intervention and if that's you, then thanks, your purchase will help fund a tryke for another needy child!
Another option is the  National Amtryke Wish List.  Every child on the National Wish List receives an Amtryke but it can take up to two years. If you are willing to help fundraise, the process goes much quicker.
How do I get my child an Amtryke?
Here is how it works. Your therapist will obtain the necessary measurements and help you to pick the best Amtryke option for you or your child. Your therapist will consult the Amtryke® catalogue, tryke fitting guide, and rely on their training in how to properly fit an Amtryke Therapeutic Tryke to determine the appropriate model Amtryke and accessories for your child. Greenebucs requires that your child be evaluated and fitted for an Amtryke by a trained professional therapist; it is an integral part of our process. If your child is not currently seeing a therapist GreeneBucs can assist in finding one, contact us at [email protected].
Our group participates in fundraising events throughout the year to benefit our Wish List Fund. As funds become available, the "Future Rider" with the earliest Wish List placement date will be first to receive his or her Amtryke. We also encourage you to actively fundraise. Any money you raise will go directly to the purchase of your child's tryke. If you collect money from friends and family, checks can be made out to "Greenebucs" with the future rider's name in the memo. If your friends and family wish to donate via PayPal, make sure they email Greenebucs ([email protected]) and let them know the PayPal donation is for your child's Amtryke.
Greenebucs encourage recipients to receive their Amtryke at either one of our organized bike giveaway events, or at one of our membership meetings. Bikes provided by our partner charitable organizations, such as Kiwanis, Rotary, Moose Lodges, Elks Lodges, etc. may wish to have your child's Amtryke delivered at one of their meetings or events.
Receiving your Amtryke at one of these events helps our mission more than you may think. Not only does it provide our members with a sense of satisfaction and accomplishment, but it also serves to bring awareness of our mission and purpose to others and encourages them to become a part of the good work we do.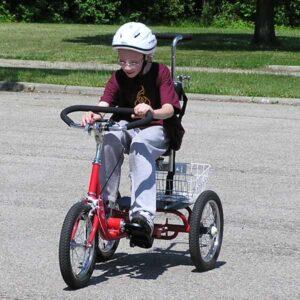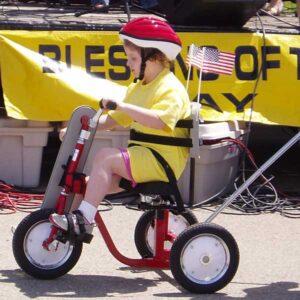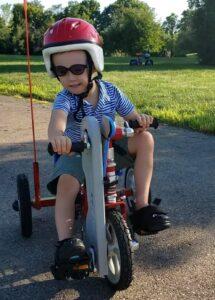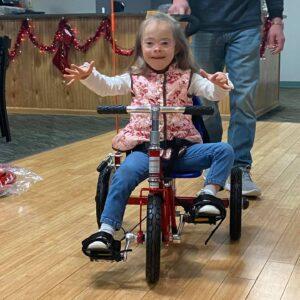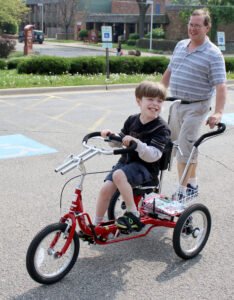 Greenebucs Amtryke Recycler Program
We at recognize that the joy of bike riding will last a lifetime, even after your child has outgrown the Amtryke they received. To ensure that more children have the opportunity to ride, we created our Recycle program.
When your child has outgrown his or her bike or is no longer riding it, we kindly ask that you contact Greenebucs to return it to our chapter instead of selling it or donating it to another organization. This will help us ensure another local child who has been waiting the longest will have the first opportunity to get an available tryke. This will also ensure the safety of the next rider because we can evaluate them and make sure they are on the most appropriate bike. Additionally, by participating in this "pay it forward" program, you and your family will be passing along of the joy of riding an Amtryke.
To recycle your Amtryke, please contact us at [email protected]. In your email, we ask that you include the following items: your child's name, your family's contact information, and about when the bike was received. If possible, we also ask for current pictures of the condition of the tryke.
Once we have this information, a Greenebuc volunteer will contact you to coordinate the return.
If another Amtryke is requested Greenebucs will help facilitate the process of getting your child back on the road in another, right sized AmTryke!
Fast speeds and sharp turns can cause the Amtryke therapeutic tricycle to tip or turn over!
Always wear helmet when riding AmTryke therapeutic tricycle. You should have received one with your AmTryke. Contact us if you did not.
Adult supervision required if used by younger or less stable riders.
Wear bright clothes, especially when riding at dusk.
Use caution near cars and other motor vehicles, near sloped driveways, hills, alleys, swimming pools and other bodies of water.
Always wear shoes.
Never allow more than one rider.
Protective gear and safety helmet should be worn at all times.
Use of the steering pin is recommended to prevent oversteering or possible tip overs.